There are four words that help us focus, but it's so obvious that you may miss it. As Churchill observed:
"Men occasionally stumble over the truth, but most of them pick themselves up and hurry off as if nothing ever happened."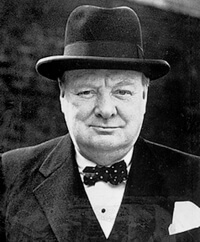 Winston Churchhill
It's funny about that focus alludes us all. We are a medicated society and everyone is concerned about their ability to multi-task, etc.
As I said to someone I was coaching today, "I don't multi-task, I multi-obsess." That's closer to what we all mean; focus is concentration and obsession. Never-mind our fundamental mistake on that point, the real issues is our challenge with WHAT we are focusing upon. Even if you think you are excellent at focus (I haven't met that person…except in my dad and Harry Truman, of whom it was said he could easily read a paper with such intensity that a train / train wreck would not interrupt him), you are probably missing the fact that it is more important to know WHAT is the object of your focus than the ability to focus is by itself.
There are 4 WORDS that are more important than the skill of focusing, and yet, they are the keys to success:
WHAT DO YOU WANT?
Let's count them:1. What 2. Do 3. You 4. Want
In my consulting and coaching practice I find that most people have never clarified the answer to these four words formed as a question. In fact, usually people are talking about what they don't want.
Just think about the problem with this approach:
1. I don't want to go hungry.2. I don't want to be abandoned.3. I don't want my children to be dysfunctional.4. I don't want Billy to hit Sally Jesse.
Frankly, it's really hard to organize focus or actions around those items. What you WANT is the touchstone for success in both focus and actions. So, it should look more like this—
1. I want to provide well for my family and my retirement.2. I want to be loved and connected to the friends and family I care about.3. I want my children to have great values and lives as they serve the Lord.4. I want Billy and Sally Jesse to treat each other with kindness and respect.
Isn't that profoundly different?If you have and employee, what are you wanting them to focus upon?If you have a child, what are you wanting them to focus upon?
It's all about 4 Words— WHAT DO YOU WANT?
"Do your math" is not the same as "Complete Lesson 17" — is it?
"I want an Excel Spreadsheet on the monthly total sales" is different than "just work hard."
So, do you want focus? Well, it starts with the OBJECT of your focus. Do you want someone else to focus, then tell them what you REALLY WANT.
Honestly, this may seem obvious; however, I promise, you are probably violating this simple principle every single day in multiple ways.
As Bob Newhart stated it in the Mad TV skit, "STOP IT."Off to learn,
​
Dr. Fred Ray Lybrand